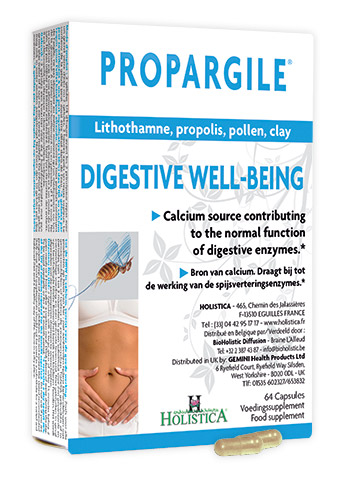 Food supplement
64 capsules Box
N° ACL 3401564751358

Propargile
Digestive well-being
Lithothamne, propolis, pollen, clay
Calcium source contributing to the normal function of digestive enzymes.*
A flat stomach depends, above anything else, on proper enzymes fonction. We do not always eat very well and this is reflected in our digestive well-being. Holistica® has selected and combined a judicious dosage of natural products, which have been shown to help quickly restore true digestive comfort. While the lithothamne and clay calcium, propolis and pollen act in combination to protect the gastro intestinal tissues, the additional effect of propolis polyphenols and pollen natural nutrients contributes in soothing gastrointestinal sensations.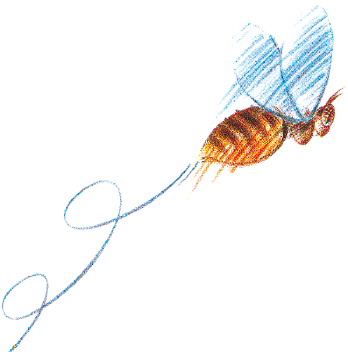 Ingredients
Lithothamne (Phymatolithon calcareum), propolis, pollen, vegetal capsule: hypromellose, purified clay.
Directions for use
2 capsules with a large glass of water 15 minutes before 2 main meals or 2 hours after a copious meal. Drink plenty of water during the day. To be used regularly or for a 1-3 month period. Do not use if you are pregnant. Keep out of reach of children. Do not exceed the stated recommended daily dose. Food supplements should not be used as a substitute for a varied and balanced diet and a healthy way of life. Store in a dry place.
*4 capsules a day apport 36% of the DV of calcium required for the benefit expected.
Natural origin components

LITHOTHAMNE AND CLAY ALKALINE MINERALS
Help to optimize the enzymatic digestive functions. This traditional Montmorillonite Clay has been selected from Mediterranean islands for its high purity level that fits to oral intake. Clay is traditionnaly used for its magnet effect, to help detox all waste products and it is also useful in the digestive system: the stomach, liver and colon. Lithothaminium minerals provide additional natural calcium that helps support enzymatic functions in the natural hepatodigestive detox process.Everything that emits negative radiation, is irresistibly attracted towards the positive minerals poles .

THE PURE MICRONIZED PROPOLIS
This gum-like balsamic substance is gathered by bees from the buds and bark of plants and trees, it is coated and transformed by the bees'own secretions to be used for many purposes inside the hive such as, for example, the desinfecting of cells before the queen bee lays her eggs into them. Propolis offers a high concentration in a large spectra of polyphenols (Kaempferol, Quercetin and many flavonoïds) that have always been used as protective component in Mediterranean countries for many physiological uses.

Pollen
the fertilizing dust of flowers is actively sought by bees as it is an exceptional food for nourishing of larvae. Pollen is rich in enzymes and natural glutamin that are useful to maintain the intestinal tight junctions, providing digestive well-being and helping reduce some food intolerances.

RESULTS OF OBSERVATIONS ON THE USE OF PROPARGILE® TO IMPROVE DIGESTIVE AND INTESTINAL COMFORT, PERFORMED UNDER MEDICAL SUPERVISION
A series of observations has been conducted under medical supervision in order to measure the results of using the nutritional supplement PROPARGILE® at a dose of 2 capsules per day for a period of 2 months in 20 people who have suffered frequent sensations of an unpleasantly bloated stomach, regularly, for a period of more than 3 years. 86% quickly recovered the feeling of a flatter stomach and 75% reported a significant reduction in intestinal discomfort. The product was also considered to be well tolerated.
Related products