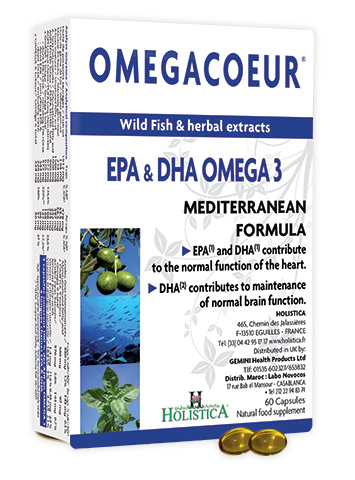 Food supplement
60 capsules Box
N° ACL 3401571434121
Omegacoeur
Mediterranean formula
EPA(1) and DHA(1) contribute to the normal function of the heart.
DHA(2) contributes to maintenance of normal brain function.
The OMEGACOEUR® complex provides a maximum and balanced content in essentialOMEGA 3 fatty acids (linked to omega 6 and 9), harmoniously associated to the vivifying principles of the Mediterranean plants. Therefore, it constitutes both an ideal and typically Mediterranean solution for heart and circulation balance. Scientific research has proved that the OMEGACOEUR® is more efficient than classics Omega 3 to protect cells of circulatory system and to maximize cellular metabolism.
(OMEGACOEUR®, complement nutritionnel méditerranéen dans l'activité de la Na, K-ATPase des cellules endothéliales humaines, Maixent, Duran, Sabatier, Pieroni et Coll., Cellular &MolecularBiology, 03/2001).

Ingredients
Purified wild fish oil TG, fish gelatin, humectant: glycerin, mediterranean macerate (walnut oil (Juglans regia) from the first cold pressed, virgin olive oil (Olea europaea), garlic (Allium sativum), basil (Ocinum basilicum)), wheat germ oil (Triticum aestivum), antioxidant: vitamin E vegetal origin.
Directions for use
to 2 capsules daily during main meals for a 2-3 month period. Keep out of sight and reach of children. Do not use if blister is broken. A varied balanced diet and healthy lifestyle are important. This is a food supplement and should not be used as a substitute. Do not exceed the stated recommended daily dose. Store away from heat and out of light. This product contains basil. It is not recommended for children under 12. No prolonged use without consulting a specialist
See also Oligophytum
(1) The beneficial effect for the heart is obtained with a daily intake of 250 mg of EPA and DHA (2 caps.).
(2) The beneficial effect for the brain is obtained with a daily intake of 250 mg of DHA. (4 caps.).
Do not take more than the recommended doses in order to have the full benefits. (Réf. EUR JOURN CLIN NUT Levitan & call 03/2010 / Atherosclerosis, Calcada & Call, 08/209.)
Natural origin components

DEEP SEA FISH OIL
This oil, produced in the highest cleanliness conditions, has proven its great nutritional interest, thanks to its concentration in OMEGA 3, especially E.P.A. (18%) and D.H.A. (12%). The Mediterranean's, who regularly consume large quantities of fish, have a heart and circulatory health beyond average. Oil from these fish makes it possible to concentrate essential fatty acids. A nutritional unbalance exists between the recommended consumption and the actual mean consumption in terms of OMEGA 3, 6 capsules of OMEGALINE-3® per day compensates this deficiency.

MEDITERRANEAN NUXOLEAT
The natural structureof this Mediterranean formula contributes to preventing unwanted fat deposit. The qualityof the oils used (as they are produced in a biological way), allows us to extract the very best from the olive, which is well-knownfor its high concentration in monounsaturated fatty acids, and from the chestnut, well-knownfor its high concentration in polyunsaturated complementary fatty acids, amongst which the linoleic acid. These pure oils are famous for their excellent nutritional quality. The Mediterranean's, who regularly consume oliveoil and certain aromatic plants, have attracted Scientifics'' attention world-wide because of their very low rates for cardiovascular accidents.The role played by these essential fatty acids,which are ideally balanced, is complemented by the goodness of biologically grown basil and garlic, in the OMEGACOEUR® nuxoleat. Researchers have highlighted that allyls in garlic inhibit an enzyme (the HMG-CoA-reductase) involved in the cholesterol production.Consumption of garlic also regulates the fibrinolyse mechanism believed to be one of the causes of blood clots. Garlic also provides several useful substances such as vitamins and natural prostaglandins. Its combination with fresh young basil leaves provides digestive and vivifying essences, which contribute to making OMEGACOEUR® an all-round product.

WHEAT GERM OIL
Especially selected by HOLISTICA® for its very high nutritional values and its high concentration in complementary unsaturated fatty acids, this wheat germ oil contributes to the fatty acids 'benefits brought by OMEGCOEUR®.
Related products