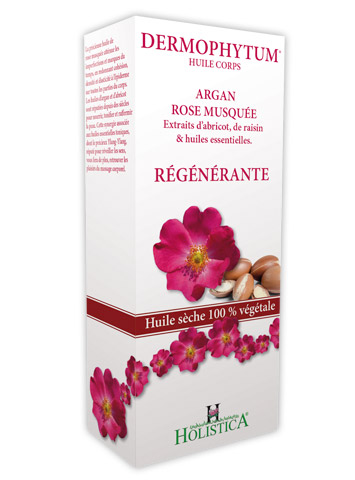 125 ml. Bottle
N° ACL 3401578537283
DERMOPHYTUM Regenerating body oil
FIRMNESS and TONE
REGENERATING BODY OIL
Argan - Musk Rose & essential oils.
REDISCOVERING THE PLEASURES OF BODY MASSAGE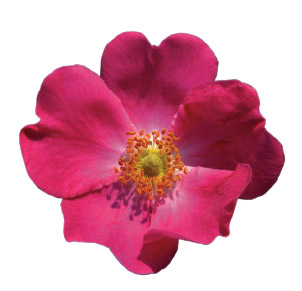 Ingredients
Prunus Armeniaca kernel oil, Vitis Vinifera seed oil, Argania Spinosa kernel oil, Rosa Rubiginosa seed oil, Citrus Paradisi peel oil, Litsea Cubeba fruit oil, Cananga Odorata flower oil, Tocopherol (2), Benzyl Benzoate (1), Benzyl Salicylate (1), Citral (1), Citronellol (1), Eugenol (1), Farnesol (1), Geraniol (1), Limonene (1), Linalool (1). (1) Naturellement contenus dans les huiles essentielles. (2) Vitamine E (origine végétale).
Directions for use
After a bath or shower, use the pump bottle to dispense a small amount of regenerative oil in the palm of your hand or directly on the skin, after drying it thoroughly, then delicately massage your body. Because of its affinity with the skin, DERMOPHYTUM® Body Oil penetrates rapidly, does not leave the skin greasy but with a pleasant firm and satin-like feeling.
In addition, to add glow and tone to your face, use DERMOPHYTUM® Soin Réparateur, available in the form of single-dose heart-shaped beads with a high concentration of Musk Rose. The combined use of OMEGALINE® food supplement, the internal component, advantageously supplements the action of the external care provided by DERMOPHYTUM® range.
For articular comfort, see also Oligophytum
Natural origin components

Argan Oil
A precious source of regenerative mono- and polyunsaturated fatty acids and natural beauty vitamins, this virgin argan oil obtained by first cold pressing of the fruit of the argan tree enjoys a reputation that is deeply rooted in tradition. In the 10th century, the Phoenicians already presented it as a precious beauty ointment. Argan oil, which is particularly used in the pre-desertic regions of Morocco to prevent the skin from drying and to inhibit premature skin ageing due to damage by the sun and the wind, maintains the water and lipid film of the epidermis to a remarkable degree.

Musk rose oil
Highly structuring thanks to its linoleic and linolenic essential fatty acids (80%), it contributes to the cohesiveness and elasticity of the skin while visibly attenuating blemishes and the marks left by time. Musk rose oil is reputed for revitalising tired, delicate skin.
Apricot kernel oil
It has been used for centuries by the Hunza women of Central Asia who, thanks to the nourishing qualities of this oil, keep a smooth, clear, wrinkle-free skin until an advanced age. Apricot oil, recommended for moisturising* sensitive skins and for its toning and antiageing properties, renders the skin supple and leaves a delicate feeling of softness.

Grape sed oil
Grape seed oil, which is recommended for its moisturiser* retaining barriers and its contribution to maintaining the protective lipid film of mature, fragile skins, is also appreciated for its emollient action. It helps to enhance the grain of the skin.

Ylang Ylang essential oil
This precious exotic essence, particularly reputed for arousing and toning the senses, will let you recover the pleasures of body massage.

Grapefruit essential oil
Slightly astringent and energising, it participates in the tonic effect.
Essential oil of Exotic Verbena
Helps to perfume the skin very delicately.

Vitamin E of vegetal origin
Through its natural antioxidant action, it helps preserve the precious essential fatty acids provided by the harmonious combination of these 7 oils. It also helps protect the skin from ageing by scavenging the free radicals generated by stress, by exposure to radiation and pollution. Finally, it increases the ability of the skin to hold in its moisturising* properties.
*Hydration of the superficial skin layers.
Related products