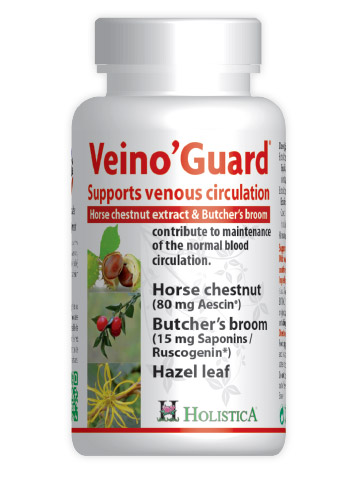 Food supplement
60 capsules
N° ACL 3477280001398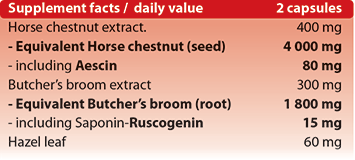 Veino'Guard
Horse chestnut and butcher's broom extracts contribute to maintenance of the normal blood circulation
Horse chestnut : 80 mg aescine.
Butcher's broom : 15 mg saponines-ruscogénine.
Witch hazel.
Veins are the blood vessels responsible for carrying blood from the body to the lungs and heart. Under normal conditions, the one-directional valves in these veins fight gravity and push blood up towards the heart. With ageing process and nutritional deficiencies these valves do not function in an optimal way, causing the veins to bulge. The veins then become weakened, enlarged, and twisted.
VEINO'GUARD is formulated with horse chestnut and butcher's broom exracts contributing to the maintenance of normal venous circulation through their phyto-active nutrients: Aescin and Ruscogenin. These two saponins, help to ensure the maintenance of normal vessels walls, in synergy with witch hazel.
Ingredients
Horse chestnut SEED standardized EXTRACT (Aesculus hippocastanum), Butchers broom root standardized EXTRACT (Ruscus aculeatus L.), Hypromellose (vegetable origin capsule), witch hazel LEAF (Hamamelis virginiana L.), anticaking: vegetable magnesium stearate.
Directions for use
1 capsule, twice a day, during a meal. Food supplements should not be used as a subtitute for a varied and balanced diet and a healthy way of life. Do not exceed the stated recommended daily dose. Do not use if you are pregnant. Do not take when you are under anticoagulant treatment. Keep out of reach of children. Store in a dry place.
Natural origin components

Horse chesTnut seed extract:
This tree of the Hippocastanaceae family, can live more than three hundred years and reach a size of 35 m. Wiidely used in Europe, this seed has long been used in the French tradition to maintain normal venous circulation thanks to its saponins: Aescin. Several scientific studies showed its role (1) on venous circulation. This concentrated Horse chestnut extract, providing 80 mg escin per daily dose, demonstrates impressive effect to maintain normal veins walls.

butcher's-broom root extract:
The butcher's-broom belongs to the Asparagaceae family. This evergreen shrub, native of the Mediterranean maquis, has colonized a vast area from Azores to Iran. The rhizome has been long used to maintain the normal venous circulation. Indeed several publications showed the presence of saponins, especially the ruscogenin in rhizome, that has been studied for its beneficial effect on blood vessels. (2-4)

Witch hazel
This flowering schrub is native from North America, belonging to Hamamelidaceae family. This plant leaves were used by the Amerindians and by Western settlers as well. High in tannins and volatile oils, Witch Hazel leaf totum perfectly completes VEINO'GUARD Phytonutrients. ESCOP (European Scientific Cooperative of Phytotherapy) and WHO recognize witch hazel leaf to contribute to the maintenance of a normal venous circulation.
1. Aescin: pharmacology, pharmacokinetics and therapeutic profile. Sirtori CR. Pharmacol Res. 2001 Sep ; 44(3):183-93.
2. Marcelon G, Verbeuren TJ, Lauressergues H, Vanhoutte PM. Effect of Ruscus aculeatus on isolated canine cutaneous veins. Gen Pharmacol. 1983 ; 14:103-106.
3. Bouskela E, Cyrino FZ, Marcelon G. Effect of Ruscus extract on the internal diameter of arterioles and venules of the hamster cheek pouch microcirculation. J Cardiovasc Pharmacol. 1993 ;
22:221-224.
4. Cappelli R, Nicora M, Di Perri T. Use of extract of Ruscus aculeatus in venous disease in the lower limbs. Drugs Exp Clin Res. 1988 ; 14:277-283.
Related products