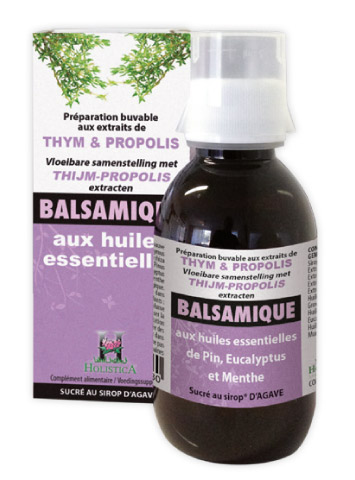 Food supplement
150ml in Bottle
N° ACL 3477280000780
BALSAMIC THROAT SYRUP
THYME & PROPOLIS & essential oils
PLANT SYRUP with MARSHMALLOW EXTRACT, ON agave basis WITHOUT ADDED SUGAR NOR ARTIFICIAL SWEETENERS
GLYCEMIC INDEX 4 TIMES LOWER THAN HONEY AND 7 TIMES LOWER THAN SUGAR IN TRADITIONAL SYRUPS
The balsamic syrup is recommended for people who caught a chill or who are exposed to a polluted atmosphere and are searching a natural physiological support in order to soften their throat, affected by vigorous winters and environmental pollution.
Thyme and propolis Balsamic syrup may be used undiluted or diluted in hot water, herbal tea or in stimulating drinking. It can be simply diluted in ambient temperature water. It liberates its natural aromas and brings immediately a well being sensation for an optimal respiration.
Ingredients
Agave syrup, spring water, marshmallow extract (root) (Althaea officinalis), thyme extract (leaves) (Thymus vulgaris), grindelia extract (aerial parts) (Grindelia robusta), propolis extract, alcohol, pine essential oil (aerial parts) (Pynus sylvestris), eucalyptus essential oil (leaves) (Eucalyptus globulus), mint essential oil (leaves) (Mentha piperita).
Directions for use
Take once or twice a day, diluted in water, far away from meals. 3 years children and over, take one dose diluted in 10 doses of water to be taken during the day. Do not exceed the stated recommended daily dose. Keep out of sight and reach of children. Consult your doctor or pharmacist if you are breast feeding, pregnant, planning to become pregnant or taking any prescribed medicine. This is a food supplement and should not be used as a substitute. A varied balanced diet and a healthy lifestyle are important.
Natural origin components

Why to choose Mediterranean Propolis?
Propolisis elaborated by bees in order to prevent the hive from insect infiltration and nocive microorganisms and to disinfect the cells where the queen lays in. Bees harvest in bud's tree and vegetables they transform it into a resinous substance, very aromatic. Most of the propolis product marketed use chinese propolis, south american or propolis from Eastern European countries. The propolis elaborated in foreign countries is most of the time made of melted propolis in high temperature and compacted in blocks in order to reduce volume and improve transport. But, the high temperature melting totally spreads those precious volatile components and particularly essential oils that determine the propolis physiological activity. The Propolis used in Holistica Balsamic Syrup is harvested in Mediterranean countries and prepared according to long and traditional mecanic process that do not content any heating process. Propolis macerates during three weeks before to be filtered and incorporated in the whole syrup formula. Filtration of such a resinous substance is particularly slow and difficult but is essential in order to preserve the precious components of the high quality propolis. The high quality propolis extract and Thyme extract associated with the sweetness of the Marshmallow extract and agave ideally contribute to throat winter comfort and protection.

Why to use Thyme, Mint and Eucalyptus essential oils?
Essential oils are natural plant extracts or buds' extract from aromatic trees. Essential oils are obtained by water distillation and allow to concentrate the substances whose aim is physiological. Pine, Eucalyptus and Mint essential oils are selected and ideally gauged in. They contribute to soften the throat while allowing a subtle and 100% natural aromatization.
Related products