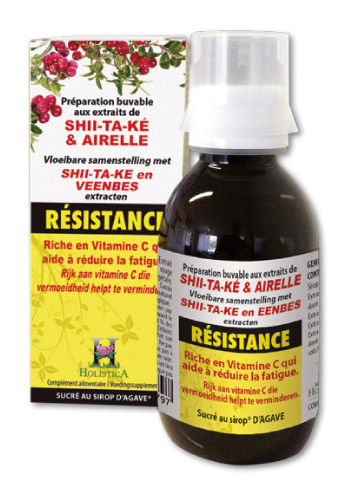 Food supplement
150ml Bottle
N° ACL 3477280000797
RESISTANCE HERBAL SYRUP
SHII-TA-KE & LINGONBERRY
Providing natural source polysaccharides with a natural source of vitamin C that helps maintain a normal immune system
WITHOUT added sugars NOR ARTIFICIAL SWEETENERS
The SHII-TA-KE syrup and the LINGONBERRY HOLISTICA® supply an exceptional quality nutritional and physiological synergy contributing to the protection, the vitality and in the resistance against various wintry attacks.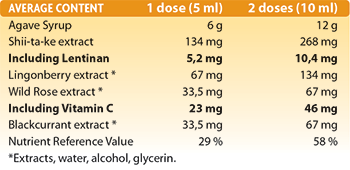 Ingredients
Agave syrup, spring water, shii-ta-ke extract (Lentinus edodes), lingonberry extract (Vaccinium vitis idaea), wild rose extract (Rosa canina), blackcurrant extract (Ribes nigrum), orange natural aroma (Citrus sinensis). Alcohol <1% vol
Directions for use
Take once or twice a day. Children under 3 years: 3-4ml/day. Children from 3-6 years: 5ml/day. Children over 6 years: 10 ml/day. The liquid should be diluted 10 times in water, taken before the breakfast or lunch.
The Agave syrup has a delicious taste, close to honey but more delicate. It presents tremendous advantage as a glycemic index 4 times lower than honey and especially 7 times lower than glucose, usually used in most of the winter herbal syrups.
Les composants 100% d'origine naturelle

Why the Shii-ta-ke mushroom extract ?
More than 25 years ago HOLISTICA®, first French Shii-ta-ke specialist, created the food supplement in capsules SHII-TA-KER HOLISTICA® with the first total extract of this invaluable food mushroom, considered as elixir of life during centuries in other countries. Since 1992 Holistica showed in its studies under medical supervision of 50 cases (25 children and 25 adults) that its concentrated Shii-ta-ke extract, standardized in 3 polysaccharides, contributed to support general well being in a significant way, 70% of the users, who had been exposed to cold temperatures.
Today HOLISTICA® proposes all the benefactions of its total Shii-ta-ke extract, concentrated in polysaccharides, under this new delicious syrup form, made with agave syrup, allowing preservation under liquid shape without any synthetic conservative. This liquid formula and its pleasant flavour facilitate the dose adaptability especially for the young children because the product can be diluted easily in a feeding-bottle. Also facilitates the dose to older persons who do not swallow capsules easily.

Why the Lingonberry Vaccinium and blackcurrant extracts ?
The Lingonberry extract (Vaccinium vitis idaea variety) is frequently consumed in the cold countries as Scandinavia because it is a natural source of protective and antioxidant phytonutrients as Vitamin C. The additional Blackcurrant and Wild Rose extracts add their nutri-protector effect as these natural flavonoïds sources contribute to optimal bioavailability of natural vitamin C.
Related products