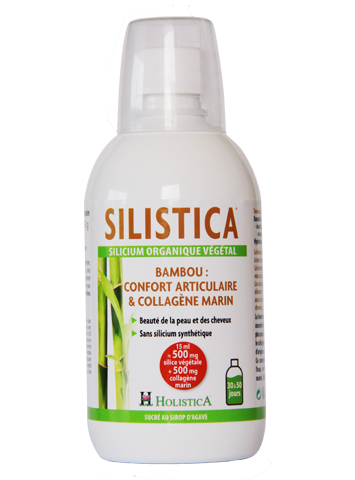 Food supplement
500 ml bottle of concentrate
N° ACL 3477280001626
Silistica
Joint wellness
Bambou organic vegetal silica & marine collagen.
Bamboo, highest concentration of natural occurring silica, contributes to joint wellness.
Silica occurs 10 times more concentrated in Bamboo than in Horsetail, and 20 times more concentrated than in Nettle.
Marine collagen, synergistic complement of vegetal silica.
HOLISTICA's innovation combines the synergy of 2 nutrients of natural origin in its concentrated forms, namely: organic bamboo silica, which is traditionally used for the lessening of joint pain; and marine collagen, which is an essential constituent of skin, tendons and cartilage.
Marine collagen is highly bioavailable.
Ingredients
Glycerine macerate of bamboo (vegetable glycerin, bamboo stem exudate (Bambusa Arundinacea)), agave syrup, acidity regulator: natural citric acid, marine collagen hydrolyzate (fish origin). No synthetic preservative, no synthetic silica. Pleasant neutral flavor, no added aroma. .
Each 15 ml dose of Silistica concentrate provides 500 mg of vegetable silica including 150 mg of bamboo silica oligoelement and 500 mg of marine collagen.
Conseils d'utilisation
SHAKE WELL BEFORE EACH USE. Dilute 1 dose of 10 ml or 15 ml with the measuring cap in approximately 10 times of its volume of water at room temperature. Stir with a spoon. A dose of 10 ml per day for adults under 50, or a dose of 15 ml for the elderly, provides the required levels of bamboo for the expected effects from marine collagen. Drink preferably at the beginning of a meal. It is also possible to prepare one liter of diluted, ready-to-drink organic vegetable silica from Silistica concentrate: Dilute 100 ml of Silistica in a bottle containing approximately 900 ml of water or filled with vegetable beverage of your choice ( almond, oats, coconut, etc.). Stir the bottle well and keep cool. Drink 2 to 3 measuring cups each day of your diluted vegetable silica preparation (100 ml for under 50s or 150 ml for over 50s), either at the beginning of your breakfast or before your main meals. Not a substitute for a diverse and balanced diet and a healthy lifestyle. It is not recommended to exceed the daily dose. Excessive consumption may result in a mild laxative effect. Do not use in case of pregnancy. Keep out of reach of children.
Natural origin compounds

Bamboo silica
Thanks to its content of vegetable silica and its ionic fraction that is the Silica trace element, Bamboo contributes to a healthy constitution of cartilage and bones. Bamboo contributes to good joint mobility and helps you maintain normal joints. Bamboo is the food element with the most concentrated, naturally occurring silica: about 10 times more than horsetail and 20 times more than nettle. This concentrate of vegetable silica in not pre-diluted water, is naturally stabilized thanks to marine collagen. Unlike most organic silica products on the market, SILISTICA, not already pre-diluted in water, is a much more economical product when compared to the amount of silica delivered per dose. At the time of use just add a little water or a vegetable drink of your choice.

Hydrolisate of Marine Collagen
Marine Collagen Peptides are noble collagen, entirely derived from fish, entirely free of bovine collagen. Complementing the physiological role of bamboo, the unique composition and structure of marine collagen peptides make it even a quality ingredient for the beauty of the skin, the hair and nails.
- Marine collagen is highly bioavailable and it has an optimal absorption capacity. Marine collagen particles are those with the smallest size and the lowest molecular weight among all types of collagens, allowing it to be easily assimilated. Marine collagen is absorbed up to 1.5 times more effectively than other types of collagen, making it popular for maintaining the beauty of the skin.
Related products