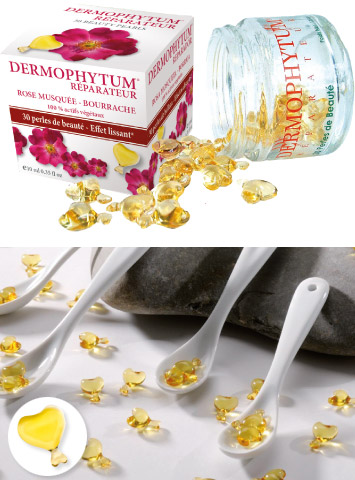 Jar of 30 «Heart shaped beads».
N° ACL 3401577844535
Dermophytum restoring care
"SMOOTHING EFFECT"
HELPS TO REDUCE WRINKLES
Musk rose & Borage oil
With the passage of time, our skin begins to show signs of ageing. The "nutriactive" and regenerative action of the concentrated Musk rose oil helps to reduce existing wrinkles.
Each heart-shaped bead contains 100% active plant concentrates to deliver in one night the same effect you get from the typical 30-day jar of skin cream. Non-greasy. Musk rose. Borage oil (guaranteed G.L.A. concentration). Helianthus oil. Regenerating essential oils. Free from colourings and synthetic preservatives.
Ingrédients
Rosa rubiginosa seed oil, Borago officinalis seed oil, Helianthus annuus seed oil, Citrus aurantium dulcis oil, Citrus aurantium amara peel oil, Citrus aurantium amara flower oil, Tocopherol, Limonene, Linalool, Farnesol, Geraniol, Citral.
Directions for use
Use DERMOPHYTUM® Restoring Care at night for a full month or 2-3 times a week all year long. Apply on the epidermis or on the face, neck, hands, scalp and all parts of the skin body which require restoring care. DERMOPHYTUM® Restoring Care brings a natural smoothing. Cut off the end of the heart-shaped bead and apply directly after all make up has been removed and skin is clean, using slight circular massaging movements for 1 to 2 minutes. Leave on skin to penetrate for 5 minutes.
With DERMOPHYTUM® Restoring Care you can also use Omegaline.
Improvement of skin smoothness: Clinical evidence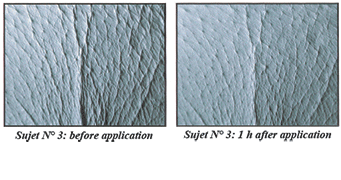 -30% wrinkles & fine lines of the crow's-feet for the 90% of the participants, just one hour after the first application.
Due to its high concentration of actives of 100% vegetal origin, Dermophytum® Restoring Care contributed effectively to tone up and smooth the skin quickly.
*Study performed on 22 volunteer women with an average age of 51.5 years old.
Related products