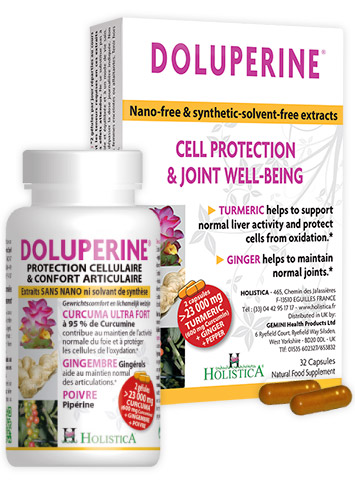 Food supplement
32 capsules Box N° ACL 3401547569536
60 capsules Jar N° ACL 3401548797334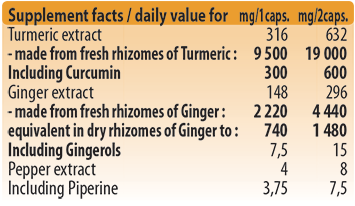 Doluperine
Cell protection : CURCUMINE - GINGEROL - PIPERINE SYNERGY
Turmeric and ginger extracts Help to maintain normal joints and cells
Curcumin Decreases contaminants attacks on cells
SYNTHETIC-SOLVENT-FREE & NANO-FREE
Turmeric, Ginger and Pepper extracts concentrated in curcumin, piperine and Gingerol for EFFICACY AND SAFETY
Cell Mol Biol (Noisy-le-grand). 2010 Oct 5; 56 Suppl: OL1400-9. Effect of a novel Omegacoeur®/Doluperine® nutritional combination on human embryonic kidney cell viability. Sottejeau Y, Patel AM, Gerber G, Pierre SV, Maixent JM. Source: Department of Physiology and Pharmacology, College of Medicine, University of Toledo, Ohio, USA.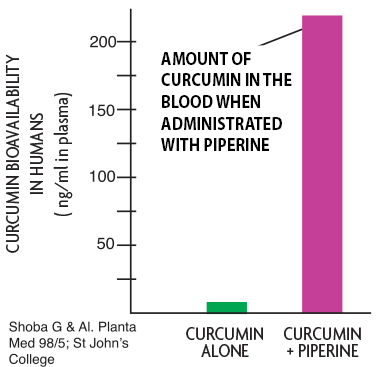 Ingredients
Turmeric dry extract (Rhizome) (Curcuma Longa) concentrated in Curcumin, ginger dry extract (Rhizome) (Zingiber off.) concentrated in Gingerols, hypromellose (Herbal origin capsule), anti-caking: vegetal magnesium stearate, pepper dry extract (Seed) (Piper nigrum) concentrated in Piperine.
Directions for use
*2 capsules daily, 1 during each main meal, provide the required turmeric and ginger extracts for the claimed effects. Maximum, one caps a day for children between 6 and 12. Do not use if you are pregnant or breastfeeding or for children under 6 years of age. Consult your pharmacist or your doctor if you use anticoagulants. Keep out of reach of children. Do not exceed the stated recommended daily dose. Food supplements should not be used as a substitute for a varied and balanced diet and a healthy way of life.
For articular comfort, see also Artrolistic
Natural origin components

TURMERIC (95% CURCUMIN)
Turmeric is one of the main pillars of traditional Ayur Vedic medicine (Ayur = Life,Veda = Knowledge), probably the most ancient Health tradition and the very basis of traditional medicines as well as Chinese, Tibetan and Mediterranean medicines.
Turmeric has always been considered as a cell purifier and is recommended for joint health and helps to prevent inflammation.Turmeric is a key component of curries, the vanilloïd curcumin being the principal ingredient. Much research has focused onthe medicinal properties of curcumin which inhibits or limits several enzymes involved in inflammation: CycloOxygenase 2 (COX 2), LipoOxygenase and NF-Kappa B. This highly concentrated Turmeric extract helps to protect the cells from toxic items from environmental pollution involved in cell misbalances. Selected researches show that the Indian population has a lower prevalence level of inflammatory and degenerative troubles and inflammatory diseases. Indians also are people who eat the largest amounts of turmeric.

PIPERINE, THE KEY OF CURCUMIN BIOAVAILABILITY
The nutritional properties of curcuma cannot be completely utilized by the body if it is used alone because of poor bio availability due to its rapid metabolism in the liver and intestinal wall. Studies show that 1% of Piperine taken with 99% of curcumin enhances the serum concentration, extent of absorption and bioavailability of curcumin with no adverse effects; Indians know that, as they always have associated turmeric and piper in curries. Concomitant administration of Piperine increases 20 times Curcumin bioavailability and helps body cells to take advantage of all the nutritional properties of turmeric.
Ginger extract
Supplies complementary nutrients including gingerol which is traditionally used by health care professionals to help in various health problems associated with inflammation. Ginger is another pillar of the Ayurvedic health tradition and recent research has also proven its effect to prevent arthritis and various painful conditions.
Related products