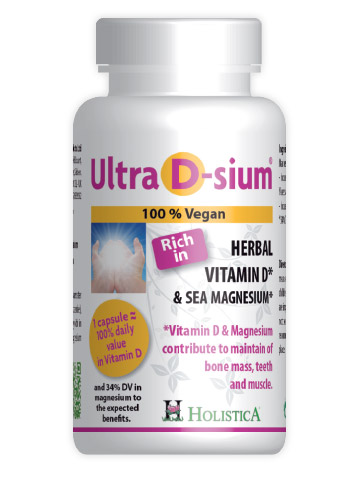 Food supplement
60 capsules Jar
N° ACL 3477280001244
ULTRA D-SIUM
Health & bones and imMune system
HERBAL VITAMIN D & sea magnesium as bioavailability co-factor.
HELPS TO MAINTAIN BONES, TEETH AND MUSCLES.
MAGNESIUM AND VITAMIN D CONTRIBUTE TO IMMUNE SYSTEM NORMAL FUNCTION.
100% VEGAN.
Today, above latitude 42° N or above a line across Boston, Barcelona, Roma, Sapporo, about 70% of the adult population is deficient in Vitamin D from autumn to spring. Especially postmenopausal women, aged people, overweight people, people with dark skin, wearing very spanning clothes preventing the synthesis of vitamin D from UV rays, people who don't expose themselves to the sun or just living in less sunny regions, breastfeeding women or vegetarians. Nevertheless Vitamin D is not only essential to healthy bones, muscles and teeth but also to maintain an optimal immune system.

Ingredients
Marine magnesium (Seawater extract), hypromellose, yeast (Saccharomyces cerevisiae) naturally rich in Vitamin D, anticaking: talc, vegetal magnesium stearate.
Directions for use
1 capsule per day during a meal containing fats. Keep out of sight and reach of children. A varied balanced diet and healthy lifestyle are important. This is a food supplement and should not be used as a substitute. Do not exceed the stated recommended daily dose. Store in a fresh and dry place.
1 single Ultra D-sium capsule provides 100% NRV* in Vitamin D, synergized by sea magnesium.
*NRV: Nutrient Reference Values.
Natural origin components

The Vitamin D
Vitamin D has two origins. Either it's naturally developed in the skin by ultraviolet rays' action or it's provided by food. Vitamin D3 is mostly obtained from big fish liver oil (salmon, cod, halibut, tuna...) and it concentrates all the pollutants found in the sea. Other sources like lanolin, which is extracted from mutton fat, is also used for some vitamin D3. Vegan Vitamin D3 may also be provided by lichen extracts ( ULTRA VEGAN D3).
In contrast to Vitamin D3, Vitamin D2 is provided by plants, yeast and fungi, naturally rich in ergosterol, which is a vitamin D precursor in association with other nutrients that seem to be helpful for Vitamin D whole metabolism.
In order to provide a 100% herbal vitamin D (Vegan and synthetic-free) easily digestible by everyone including fragile liver people, Holistica researchers have selected Saccharomyces, simply dried under UV rays, which develop their natural content in Vitamin D, as our skin does. This vitamin D plays an essential role in maintaining normal function of the bones, teeth, and muscles. It participates in the assimilation of calcium and phosphorus and in the division cells balance. Vitamin D also helps to maintain a good immune system normal function.
Recent findings (Hohman & col.), showed that there was no significant difference between natural vitamins D2 and D3 in their effectiveness on the bones' density.

Marine Magnesium
Magnesiumis considered by many researchers as the main co-factor for the proper assimilation of Vitamin D. Both of them have a physiological complementary activity to the bones, muscles and cells balance.
The magnesium simultaneously combined with Vitamin D acts synergistically, with the complementary purpose of helping the maintenance of bones and muscles and the proper use of energy in the metabolism. It also contributes to the preservation of neurotransmission system and the normal muscle contractions, including the heart muscle.
Related products