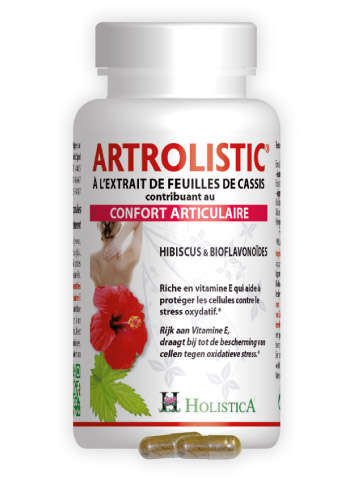 Food supplement
60 capsules Jar
N° ACL 3401575152274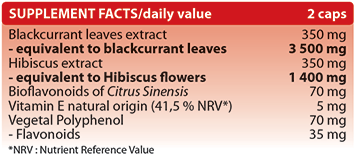 Artrolistic
ARTICULAR COMFORT
black currant leaves favour normal joint function.
make movement easier.
contributes to muscular recovery.
purifying and detoxifying effect.
Extracts of traditional plants that bring Polyphenols (Flavonoids, Anthocyanin), Polysaccharides, Unsaturated fatty acids and natural Vitamin E.
Due to the synergy of the selected plants extracts, ARTROLISTIC, fortified with natural vitamin E, provides a contribution specifically designed to help uphold a normal joint mobility. ARTROLISTIC is also used by sportsmen, before and after muscular efforts, for the well-being and the aid recovery brought by the flavonoids of these traditional plants.
HOLISTICA has developed this innovative formulation and has characterized the different flavonoids which have complementary profiles.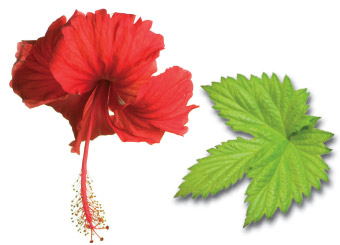 Ingredients
Blackcurrant extract (Ribes nigrum) (leaves), roselle extract (Hibiscus sabdariffa) (flower), hypromellose vegetal capsule, lemon pericarp extract (Citrus limonia), natural vitamin E.
Directions for use
Take 1 capsule in the morning and 1 capsule in the evening with a glass of water, preferably at the beginning of the meal. A varied balanced diet and healthy lifestyle are important. This is a food supplement and should not be used as a substitute. Do not exceed the stated recommended daily dose. Store out of light.
For articular comfort, see also Oligophytum
Natural origin components
ROSELLE EXTRACT
This 100% pure and natural extract, resulting from the HOLISTICA® laboratory research, which has been the pioneer for more than twenty years, in the valorization of this variety of Hibiscus, concentrates various phytonutrients and brings various polysaccharides. Its traditional use in Egypt and in the Southern Mediterranean region aims to cool down the body during periods of high heat.

BLACKCURRANT EXTRACT
Blackcurrant is source of anthocyanin, or Vitamin P and delphinidines, which are renowned protective pigments, traditionally recommended contributing to the legs comfort and the upholding of the joint and the muscles. The blackcurrant extract constitutes an additional supplement in terms of flavonoids in order to uphold the mobility.
LEMON PERICARP EXTRACT
It is in the lemon's pericarp, and more specifically in the most external part of the zest (excluding the whitefilm), that a specific family of flavonoids is extracted (where its concentration is at its peak), the flavones, which include hesperidins.
These flavanons contributes to uphold a normal blood circulation in a complementary way to other flavonoids brought by the other two plant extracts. These flavonoids are on an unsaturated fatty acids support coming from walnut and olive oils, which permit their good transportation into the organism and are associated with natural Vitamin E, which contributes to protect cells against oxidative stress.
Related products