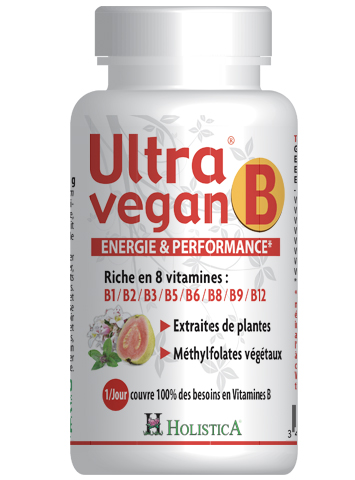 Food supplement
Jar of 30 breakable tablets to chew.
N° ACL 3477280001534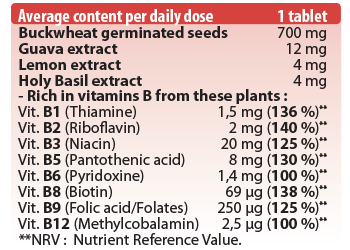 Ultra Vegan B
8 VITAMINS B VEGETAL ORIGIN
Covering, in a balanced way, 100 % of daily needs in only one tablet.
VITAMINS B1, B2, B3, B5, B6, B8, B9 & B12 100% VEGETAL ORIGIN.
Vitamins B1, B3, B6, B8, B12, contribute TO NORMAL FUNCTIONING of the nervous system, to normal psychological function and to normal energy-yielding metabolism.
Vitamin B5 Contributes to normal mental performances and to reduce tiredness & fatigue..
Vitamin B6 contributes to the regulation of hormonal activity, to normal homocysteine metabolism, to normal red blood cells formation & to the normal function of the immune system.
Vitamins B2 & B3 contributE to the maintenance of normal skin, mucous membranes, and vitamin B8 to the maintenance of normal hair.
Vitamin B9 contributes to maternal tissue growth during pregnancy and to the reduction of tiredness and fatigue for everyone.
Elaborated with Buckwheat germinated seeds, Guava, Lemon and Holy Basil, this innovative formula, concentrated for only one intake a day, has been especially and exclusively made with plants extracts, without any adding of synthetic vitamins B or artificial additive. These 4 plants, selected according to very rigorous Holistica quality approach, are extracted without any other solvent than water to concentrate its 8 vitamins B and cover, in a balanced way, 100 % of daily needs in only one tablet a day.

Ingredients
Buckwheat (germinated seed) (Fagopyrum esculentum), vegetal sweetener : Sorbitol, anti-caking : vegetal magnesium stearate, guava aqueous extract (Fruit) (Psidium guajava), lemon aqueous extract (Fruit) (Citrus limon), holy basil aqueous extract (leaf) (Ocimum sanctum).
Directions for use
Chew only one tablet a day (chew at least some seconds for a good assimilation), during breakfast (sports, pregnancy, tiredness) or during dinner (nervous system, intellect, hormone system), bring balanced needed values of 8 vitamins B for expected effects. Do not give to children under age of 3. It is not advised to exceed the daily indicated dose. An excessive consumption may have laxative effects. No extended use without a specialist advice and tracking. To keep dry, protected from heat and light..
For a good assimilation, ULTRA VEGAN B is recommended under chewable form for
Sportsmen to meet their vitamins needs that contribute to normal energetic-yielding metabolism (B1), for vitamin B6 that contributes to normal protein metabolism, for B9 that contributes to normal amino-acids synthesis, for B2, B6 and B12 that contribute to normal red blood cells (which carry oxygen) formation and maintenance.
Vegetarians and vegans whose food that is poor in vitamin B12, must be completed.
Elderlies because vitamin B5 contributes to normal mental performance and to reduce tiredness.
Pregnant women or the one who want to get pregnant, whose B9 needs are increased.
Skin and hairs beauty, in synergy with OMEGALINE or HOLISTICAP.
Students and all those who want to complete their diet in vitamins B.
Compounds of natural origin

BUCKWHEAT GERMINATED SEEDS
Buckwheat is grown in France since fiftennth century. Its germinated seeds, which are gluten-free, are not part of cereal family but of the Polygonaceae's. They are really appreciated for their nutritional properties better than raw seeds : their rate of vitamins B are highly increased during germination. However it's not always easy to get our own germinated seeds crop in the kitchen daily. The germinated seeds concentrate used in the making of ULTRA VEGAN B tablets bring in only one tablet, vitamins B3, B8 and B12 whose organism needs every day.
With 9 g of proteins for 100 g, buckwheat germinated seed is also a lot more noble source than simple buckwheat flour. Furthermore, its Vit. B12 comes under its natural methylcobalamin form directly available for the organism and not under its cyanocobalamin synthetic form from chimistry, commercialy the most common Vitamin B12 form.
Regarding the vitamin B9 from germinated buckwheat, it comes under natural folates whose bioavailability is greater than synthetic monoglutamate folates.

Holy Basil
It's a specie of herbaceous plants from Lamiaceae family. However Holy Basil has nothing to do with common Basil that we know. This little shrub, with thin and delicate leaves, has a place of choice in every indian homes and the most make it grow by themselves in order to consume it as infusions as an alternative to tea. Ayurvedic tradition recognizes its various properties.
Holy Basil is rich in vitamin B3 especially useful for nervous system.

GUAVA, HOLY BASIL AND LEMON SYNERGY
Guava is an edible tropical fruit from America, and Africa. Guava is particularly rich in Vit. B1, B2, B5 & B6. Associated to Holy Basil, and to lemon pericarp for their concentration of Vit. B3 & B9, this extracts mix brings then all the 8 vitamins B in balanced proportions that Holistica knew how to formulate in order to cover in only one intake, 100% of needs for each one of these vitamins B. Vitamin B9 (folates) is natively present in lemon pericarp with its cofactors.
Vitamins from B group gain to be associated in a balanced way and from natural sources rather than isolated and from synthetic sources.
Related products