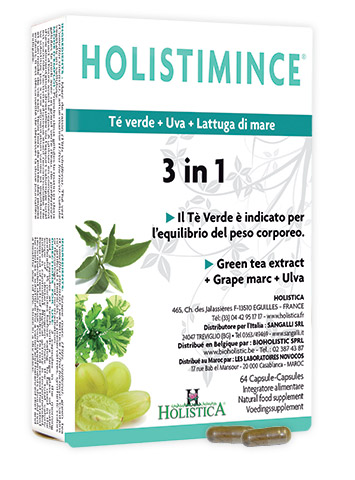 Food supplement
64 capsules Box
N° ACL 3401573901454

Holistimince
3 in 1
A SLIMMER WAISTLINE
GREEN TEA EXTRACT HELPS MAINTAIN A NORMAL WEIGHT
Provides well-being and lightness
Contributes to slimness balance
Food supplement with polyphenols
HOLISTIMINCE® provides in one capsule a synergy of 3 traditional plants. Its richness, in terms of mucilaginous fiber, which inflates when in contact with water, gives an impression of satiation, allowing you to resist snacking and help your body to eliminate its excess weight naturally to get a slimer silhouette. HOLISTIMINCE® can be perfectly integrated in the scope of a dietary program where the total calorific level is controlled and where the nutritional balance is ensured by diversified foods.
Ingredients
Grape marc (powder) (Vitis vinifera), green tea (dry aqueous extract) (Camellia sinensis), sea lettuce (powder) (Ulva lactuca), hypromellose (vegetable capsule).
May contain traces of fish, molluscs and crustaceans
Directions for use
1-2 capsules in the morning and 2 capsules at lunch with a large glass of water, preferably 15 minutes before eating. Not suitable for children, teenagers and pregnant or lactating women. To be used in the scope of a dietary program where the total caloric intake is controlled. Physical activity is recommended. Keep out of reach of children. Do not exceed the stated recommended daily dose. Food supplements should not be used as a substitute for a varied and balanced diet and a healthy way of life.
For slimness, see also Propargile, la fiche Oligophytum and Glucolistica.
Natural origin components

Grape marc
If grape is one of the most advised fruit in dietetics, grape marc, obtained after pressing the pips, concentrates the benefits without any calorific supplement. It is a source of fibers, polyphenols and trace elements. Grape seeds contained in the marc provide natural antioxidant to protect cell membranes against devastating attacks by free radicals.

Green tea extract
Tea is the most consumed beverage in the world. As opposed to other teas, green tea or virgin tea has been fermented. This specificity allows it to keep intact its different essential constituents and grants it great interest for refreshing the body or spirit. The extraction process allows to have an extract providing polyphenols complementary with those brought by the grape marc.

Sea lettuce
This plant concentrates the richness of the seas, and was selected in this formula for its specific trace elements, minerals, polysaccharides and other phytonutrients.
Related products