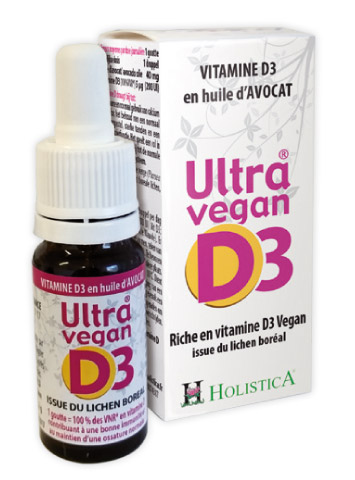 Food supplement
8 ml Bottle with a dropper
N° ACL 3477280001435

ULTRA VEGAN D3 DROPS
IMMUNE SUPPORT AND NORMAL CELL FUNCTION LICHEN-SOURCED VITAMIN D3 IN AVOCADO OIL
Vitamin D contributes to the normal function of the immune system and helps maintain normal bones & muscles.
1 single drop a day provides 100% daily dose vitamin D3.
Fits for children, seniors, vegetarians, and vegan food.
Synthetic-additives-free, sheep-lanolin-free.
Oily fish and sheep lanolin are the most common dietary sources of Vitamin D3. This is of course missing from the diets of Vegetarians and Vegans in particular, hence why supplements are strongly recommended. But Vegans do not like using such animal sources and are looking for alternative safe and vegan sources. ULTRA VEGAN VITAMIN D3 provides a new generation natural safe form of 100% Vegan vitamin D that avoids animal fat sourced vitamin D, that expose users to dioxins, heavy metals and other contaminants. Formulated with co-factor avocado sitosterols, ULTRA VEGAN D3 offers a real innovation for all users.
Ingredients
Avocado oil (Persea americana), vitamin D3 extracted from boreal lichen, antioxydant : vitamin E from vegetal origin.
Directions for use
1 drop daily with a meal brings 5μg (200 IU) of vitamin D3 (100% of NRV). Healthy children under 18 y.o., and without risk factor : 2 drops max/day : 400 IU; with risk factor : 4 drops max/day : 800 IU. 50 years old and older, or after healthcare professional advice in case of increased need : 5 drops/day : 1000 IU. A slight deposit may appear, sign of quality: Shake before using. Food supplements should not be used as a subtitute for a varied and balanced diet and a healthy way of life. Do not exceed the stated recommended daily dose. Keep out of reach of children. Store away from heat and light.
Natural origin components

BOREAL LICHEN- SOURCED VITAMIN D3
Our vegan Vitamin D3 (Cholecalciferol) comes from a special Lichen growing up in areas exposed to specific boreal powerful sun rays.
Lichens provide the best nutrients usually contained in both mushrooms and algaes.
This gives them unique attributes such as surviving in extreme climates and having the ability to accumulate meaningful levels of useful nutrients, including Vitamin D3 to be able to increase their own immune system but other «totum» nutrients as well. A long history of Lichens safe use was our number 1 priority and we carefully selected a lichen that has been traditionnaly used in foods for centuries (and continues to be used today) in scandinavian countries.

AVOCADO VIRGIN OIL
Botanical name: Persea americana.
Part of the plant: Pulp whose oil content is remarkably high (5-30%). Avocado is the fruit of the avocado tree, a tree of the Lauraceae family, native to Mexico. The oil, cold pressed, is tasty, very fruity and with a yellow to green color, sign of an excellent quality.

AVOCADO OIL SITOSTEROLS
• Unsaturated fatty acids (65%): Omega 9 and Omega 7.
• Unsaponifiables: vitamin E, carotenoïds, phyto-sterols: sitosterol & campesterol.
highest level in unsaponifiable compounds compared to most of other vegetal oils: 5% phytosterols (compared to 1% in other oils). Avocado oil is far more stable than most of all other vegetal oils that are higly oxidable. soft extraction process enables to offer with this oil an optimal dose of natural antioxidant Vitamin E for a long stability. Avocado oil carotenoïds also contain luteïn traces.
Avocado oil phyto-sterols contain 90% sitostérol and 10% campesterol. A study has provided evidence that sitosterols improve vitamin D3 activity on macrophages immune function. Among the many functions of vitamin D is its role in the modulation of macrophage normal function. As Vitamin D deficiency is a wide-spread nutritional problem, there is a tendency for the public to overdose with synthetic vitamin D supplementation which can result in hypercalcemia and several associated disorders but that is not always used in an optimal way by the body. This study was designed to investigate the possibility that combining low doses of vitamin D with sitosterol without toxicity, enhances the efficacy of the vitamin D. Sitosterols enhanced the action of Vitamin D3 on the immune function of macrophages which could be beneficial to vitamin D deficient individuals.(1)
(1) Alappat L1, Valerio M, Awad AB., Effect of vitamin D and B-sitosterol on immune function of macrophages.., Int Immunopharmacol. 2010.
Related products