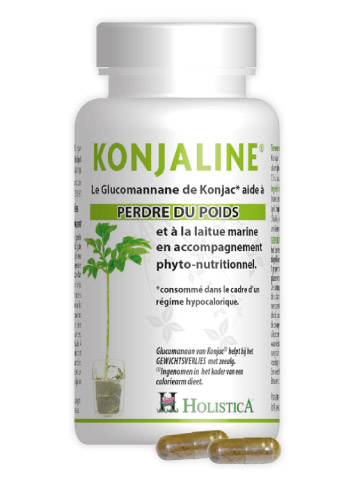 Food supplement
90 capsules Jar
ACL N° 3477280001350

Konjaline
KONJAC GLUCOMANNAN - SEA LETTUCE
The Konjac Glucomannan consumed for a hypocaloric diet HELPS WEIGHT LOSS *.
*consumed at a rate of 3 grams a day (2 capsules with two glasses of water before each of the 3 meals.
Lors de programmes de réforme alimentaire visant à réduire les excès de poids, les phases 1 permettent souvent de perdre assez aisément les premiers kilos superflus, avec différents nutriments d'accompagnement comme les polyphénols de thé vert (HOLISTIMINCE®). Cependant, dans les cas de surcharges pondérales rebelles plus marquées chez les personnes qui ont des difficultés à réduire et à équilibrer leurs prises alimentaires, ou qui ont pris du poids installé avec l'âge, celles-ci se découragent souvent dans les phases «plateau» à voir leur poids stagner sur la balance malgré leurs efforts.
Le glucomannane de Konjac a démontré son efficacité pour obtenir une perte de poids plus significative à la condition d'en consommer 3 g par jour toujours dans le cadre d'un régime hypocalorique selon les conseils ci-dessous, rendant alors le régime plus facile à tenir, encouragé par les résultats obtenus. Ainsi, en phase 2 de tels régimes, le glucomannane de konjac ainsi dosé donne des résultats significatifs.
Ingredients
Konjac (konjac amorphallus) (tuber) rich in Glucomannan (500 mg per capsule), hypromellose (capsule of vegetable origin), dried sea lettuce (Ulva lactuca) (Thallus), anticaking agent: stearate magnesium of vegetable origin
Directions for use
2 capsules at least 30 minutes before each of the 3 meals with a large glass of water, followed by a second glass of water taken 15 minutes after ingestion of the capsules. Not recommended for pregnant or lactating women, children and persons who have difficulty for swallowing. Do not replace a varied and balanced diet and a healthy lifestyle. Keep out of the reach of children. It is inadvisable to exceed the recommended daily dose. To store in a dry place.
Warning
The consumption of Konjac with a lot of water is highly recommended to ensure ingestion of the substance into the stomach (in order to form a gel), and thus avoid a risk of choking to people with difficulties of swallowing or in case of ingestion with inadequate fluid other than water. Do not open the capsule before swallowing.
Natural origin components

Konjac
The Glucomannan of konjac stems from clavus of these slender flowers Amorphophallus Konjac, grown in the East for over 2000 years for its nutritional benefits of its fibers. The flour of Konjac is obtained by grinding the tuber of konjac in the form of powder form which is then sifted to extract the Glucomannan, a gelling substance that can absorb up to 100 times its volume of water. The Glucomannan of konjac has remarkable effects. It helps in weight loss, consumed at a rate of 3 gr per day (2 capsules with two glasses of water before each of the 3 main meals) as part of a low-calorie diet and also helps to the maintain of a normal cholesterolemia by increasing the doses at a rate of 4 gr per day (split up into 4 doses per day). This nutrient quickly provides a feeling of satiety with a very low calorie intake: about 3 calories per 100 gr. Finally, Glucomannan helps to get a significant loss of weight thanks to its waterproof role on the digestive system, reducing the passage of fats in the blood.

Sea Lettuce
The sea lettuce, rich in soluble fibers also provides various minerals and trace elements of natural source (20 % on average) and about 10 % of proteins and phytonutrients complementary co-factors.
Related products