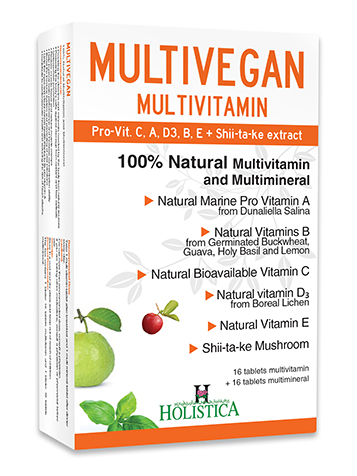 Food supplement
Box of 16 tablets multivitamin + 16 tablets multimineral - 1 Box = 2 weeks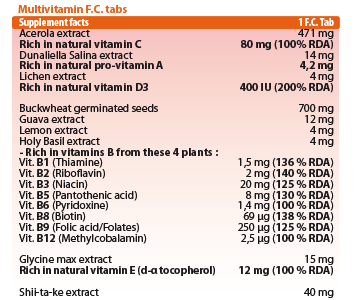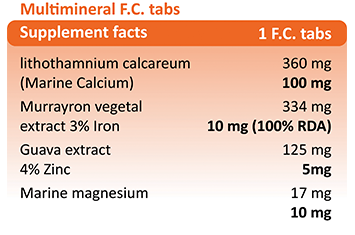 Multivegan
100 % Natural Multivitamin and Multimineral
Rich in natural marine Provitamin A from Dunaliella Salina, contributes to the maintenance of normal skin and normal vision.(1)
Rich in natural Vitamins B from Germinated Buckwheat, Guava, Holy Basil and Lemon.
Rich in natural bioavailible Vitamin C.
Rich in natural Vitamin D3 from Boreal Lichen.
Rich in natural Vitamin E.
Rich in Shii-ta-ke Mushroom.
MULTIVEGAN® Multivitamins & Minerals with Shiitake Extract helps restore optimal physical and mental performance.
Tailored all-natural vitamins and essential minerals for hectic lifestyles. MULTIVEGAN is a high dose formulation of pro A, B1, B2, B3, B5, B6, B8, B9, C, D3 and E natural vitamins plus other essential minerals for general stamina. These key natural nutrients work in synergy to help you to perform at your best and get the most out of all the day. MULTIVEGAN is free from artificial nutrients, stimulants, and offer a healthy way to help you be at your best, both physically and mentally. MULTIVEGAN combination of B & C vitamins and essential minerals as magnesium help you to release your energy. Free from synthetic compounds MULTIVEGAN is perfectly suitable for vegetarians and vegans.
Only one a day multivitamin tablet in the morning and one a day multimineral tablet in the evening, at dinner time, offer a perfect synergy for physical performance and mental energy. MULTIVEGAN helps relieve of short periods of exhaustion caused by stress, tiredness. MULTIVEGAN also helps to complete deficient nutrition.
Ingredients
Acerola extract, Dunaliella Salina extract, Lichen extract, Buckwheat extract, Guava-Holy Basil-Limon extract, Glycine max extract, Shii-ta-ke extract.
Directions for use
1 tablet
(1) 1 Multivitamin tablet a day, at breakfast time, provides all natural bioavailable vitamins together with the famous revigorating Shiitake extract to enhance general vitality + 1 Multimineral tablet at dinner time provides the main natural minerals to cope with stressful situations and to relieve fatigue
Natural origin components

NATURAL MARINE PRO VITAMIN-A
Extracted from Dunaliella salina algae, Natural catonenoïds are the best provitamin A precursors, which is to say that they are converted into vitamin A in the body according to the body's needs only when it needs it without any risk of Hypervitaminose as it could be possible with synthetic vitamin A. This safe natural source of Pro vitamin A is important for vision and it contributes to the integrity of tissues and notably the skin. Flamingos enjoy eating these small algaes to take all the healthy advandates of these natural provitamin A nutrients, for their vision, and for their immune system as well. Dunaliella carotenoïds also help protect the skin from pollution and oxidation.

NATURAL VITAMINS B12 FROM GERMINATED BUCKWHEAT SEEDS
These germinated buckwheat small seeds are the most concentrated natural sources of natural vitamins B. It is a very innovative process that enable to cover 100 % of daily needs in 4 vitamins B with their bioavailable form . Most of old generation vitamins B complexes on the market are manufactured with synthetic vitamins analogs or fermentated yeast on synthetic vitamins that have been discovered as poorly biavailable. For example, The body actually has no possible direct use for the synthetic cyanocobalamin Vitamin B12 or synthetic folic acid Vitamin B9 that never occur alone in Nature- these precise synthetic compounds themselves-, and the body would have to set about converting any synthetic cyanocobalamin into methylcobalamin true vitamin B12 form as soon as possible ( through various enzymatic pathways that are not always active). It's this natural methylcobalamin- compound that the body needs to function properly, that is provided by MULTIVEGAN Unabsorbed synthetic cyanocobalamin Vitamin B12 can be caused by frequent enzymatic deficiency, genetic mutation ( induced by pollution) and co-factors nutrients deficiency ( as food poor in methylfolates ) and by a variety of medical problems.
Natural source vitamins B
, offer a better bioavailability, thanks to perfect molecular form that fits to cell receptors, - allow the body to
bypass the Cyanocobalamin poor absorption in the small intestine
and use the natural vitamin immediately as perfectly recognized by cell receptors. - ensure that the body gets exactly the active B12 and other co factors vitamin B form it needs, whereas if Cyanocobalamin is used alone, there can be further problems with converting the chemical cyanocobalamin into the active methylcobalamin, depleting methylfolates and other nutrients, required for its metabolism., inducing folates-dependent-troubles. - It has been suggested that deficiency of methionine synthase (requiring Methylcobalamin) and the block of the conversion of methionine to S-adenosylmethionine (SAM) is responsible for the neuropathy in Methyl B12 deficiency states ( despite high seric level of unmetabolized cyanocobalamin). -
Unmetabolized cyanocobalamin with sufficient analytical levels, may mask a real deficiency in active Methylcobalamin
, and deplete methylfolates. - Synthetic Folic acid supplementation without methylfolates, may not balance this situation as far it does't provide methylfolates required for both B12 and B9 metabolism. Vitamins B9, B12 should be supplemented as a whole B complex with their natural forms, and not as isolated synthetic non-methyl forms. That's the reason why Holistica developped this perfect natural vitamins synergy complex including Methylfolates, Methylcobalamin and other natural vitamins B extracted from these natural sources. Germinated Buchwheat sprouts induce a high rise of natural methylcobalamin form for their own growth process and they also contain natural B3, B8 and B9 as natural folates ( co factors of Methylcobalamin bioavailability).
HOLY BASIL NATURAL SOURCE OF VITAMIN B3
Holy Basil is a very famous traditional herbal remedy, to fight stress. Recent discoveries have provided evidence that it contains natural vitamin B3 that is a well known vitamin for its anti stress function and for nervous system balance. Ayur vedic and all oriental mediterranean medecines have included the use of this herbal remedy to fight stress and support a strong mental strengh. It helps to fight Burnout risk for those who work too much or are exposed to affective stress.
GUAVA AND LEMON COMPLEMENTARY NATURAL VITAMINS B1, B2, B5, B6 AND B9 SOURCES
IN order To complete these natural vitamins B sources and cover all the daily needs in all the other required vitamin B, we include in this innovative natural multivitamin product, a guava fruit extract that complete our formula with natural vitamin Vitamin B6, B1, B2 and B5 that are essential both for cardio vascular, nervous, endocrine, immune and dermatologic systems. Lemon folates also provide complementary B9 methylfolates to reach a sufficient concentration for the daily needs. Vitamins B12 and B9 work together but also require sufficient levels of Vitamin B6 and B2 to support Methionin / Homocystein/ Cystein cycle that is important for many important cardio vascular and nervous functions but also for energy metabolism, and for fertility functions.
NATURAL BIOAVAILABLE VITAMIN C - RICH EXTRACT OF ACEROLA
The acerola Malphia glabra L. we use is native from the French Antilles islands and its origin was also found in South and Central America. It's a bush that reaches up to a maximum of 3 meters in height. When the acerola fruit matures, it turns red or purple. Its pulp is soft and succulent. With a fantastic vitamin C level, varying from 1000 to 3000 milligrams per 100 grams of pulp, it is 20 times more concentrated in vitamin C than orange and lemon. Acerola also contains complementary bioflavonoids. The concentrated active principles contained in this small cherry can satisfy 100% of the daily requirements of vitamin C with only one or two tablet a day. This natural vitamin C,naturally associated together with its nutritional flavonoïds cofactors supplied by the fruit itself, takes part in the make-up of supporting collagen function and tissues and help to fix Iron for tired people: it is a real boost for daily general stamina. As a major co-factor antioxidant, natural vitamin C participates in the protection of connective tissues and to boost immune system. Most of synthetic vitamin C on the market are only isolated ascorbic acid that is poorly bioavailable when not associated with natural flavonoïds required for vitamin C absorption. For optimal Vitamin C bioavailability, researchers have shown that Vitamin C is boosted when associated with Natural Provitamin A carotenoïds as they are provided here together with Dunaliella algae ingredient. Synergy with natural vitamin C and Provitamin A is also enhanced thanks to Natural Vitamin E associated in this product.