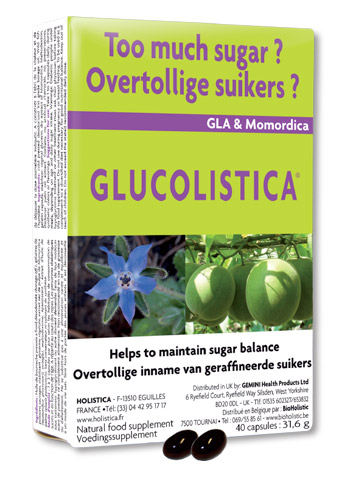 Food supplement
40 capsules Box
N° ACL 3401578851310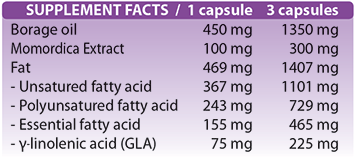 Glucolistica
Stop to snackings
Momordica helps to maintain a normal sugar level for people whose diet is too rich in refined sugars or who like to snack.
borage oil (> 20% unsaturated Gamma-linolenic acid)
This new food supplement developed by HOLISTICA® combines a concentrated form of a synergistic combination of ingredients that have all proved their nutritional effectiveness in the presence of a diet that is too high in sugar.
Momordica is recommended for those who occasionally engage in dietary indiscretions, who consume too many sweets, and sodas or who have bad snacking habits, and those who want to adopt a nutrition less high in sugar.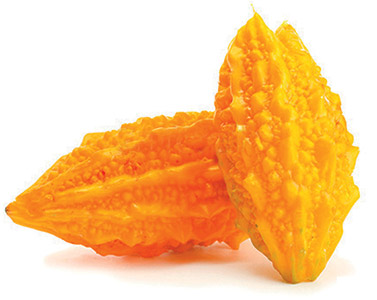 Ingredients
Cold pressed deodorized 1rst grade borage oil (Borago off.), fish gelatin capsule, dry extract of Momordica (Momordica grosvenori) (fruit), stabilizer: vegetal glycerin, maltodextrin, thickener: vegetal glycerin monostearate.
Directions for use
Take 1 to 3 capsules daily, during meals, depending on age and daily sugar intake. Warnings: Diabetic people under glycemia treatment or other treatment must ask their physician before taking this food supplement. Do not use during pregnancy or breast feeding. To be used as a complement to a diversified diet necessary for good nutritional balance. Keep out of reach of children. Do not exceed the stated recommended daily dose.
Natural origin components

Extrait de Momordica
This fruit of the gourd family, little known in Europe, is widely consumed in Asian dishes and in the cuisine of tropical regions. Its shape is half way between the one of a cucumber and of a green melon. Despite its very pronounced bitter taste, it is appreciated because it has longly been considered as a food that promotes well-being. It is traditionally used to offset a diet that is too rich in sugar. It's highly varied nutritional composition supplies among other substances peptides, cucurbitaceous, glycosides, triterpenes, polyphenols and saponins that constitute a wealth of protective micronutrients potentially useful for people who consume too much sugar. The momordica extract, elaborated for the Glucolistica caps, is guaranteed in bitter principles titrated to a minimum of 5.5%.

First cold-pressed borage oil
Well-known for its record-high content of unsaturated fatty acids and gamma-linolenic acid (GLA), the invaluable Omega-6 that very few natural sources supply, borage oil has been the subject of new studies showing its value with people who had a diet too high in sugars. (J. Nutr. Biochem. 1999 Jul. T Coste&Coll, Beneficial effects of gamma linolenic acid supplementation. Laboratoire de Diabetologie de la Timone, Marseille).
Related products