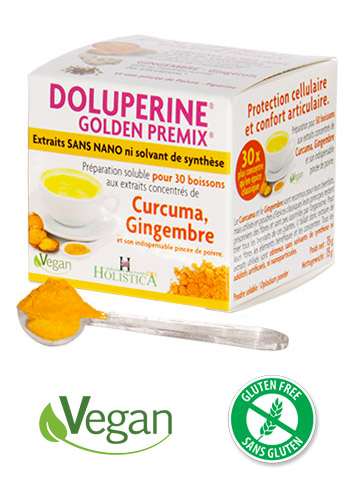 Soluble concentrated preparation for 30 vegetal drinks . 15g Jar.
N° ACL 3477280001527
Doluperine Golden Premix
Turmeric & ginger Concentrated soluble PReparation.
cells protection and joints comfort.
1 pod of concentrate = 1 DOLUPERINE capsule corresponding to 11,7 g of turmeric + ginger + pepper
1 jar of 30 doses is equivalent to more than 300 g of simple spices ! = more than 30 mugs of healthy comforting drinks
cells protection and joints comfort.
ultra strong turmeric extract (95% CURCUMIN) contribuTeS to a normal liver function & PROTEcts CELLs from OXiDATION.
GINGER EXTRACT HELPS MAINTAIN NORMAL JOINTS.
1 jar for more than 6 liters comforting vegan hot drinks.
Vegan preparation scientifically studied for its good tolerance to recommended active doses.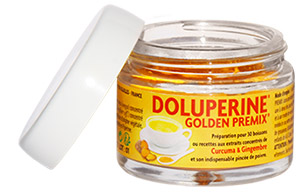 Ingredients
Turmeric extract (rhizomes) (Curcuma longa) concentrated in curcumin (95 %), Ginger extract (rhizomes) (Zingiber off.) concentrated in Gingerols (5 %), anticaking : vegetal magnesium stearate, Pepper extract (seeds) (Piper nigrum) concentrated in Piperine.
Advices for use
Blend with blender or dilute 1 dose (473mg) of DOLUPERINE.
2 doses a day provide 600 mg curcumin for an optimal cell protection with the accurate proportion of 7,5 mg piperin and 15 mg gingerols from ginger for joints comfort. Traditional extraction respectful of components, without synthetic solvents nor nanos. 1 jar of DOLUPERINE GOLDEN PREMIX concentrate, correspond to more than 300 g turmeric & ginger simple spices powder ! 1 jar enables to prepare more than 6 liters of healthy vegetal drinks.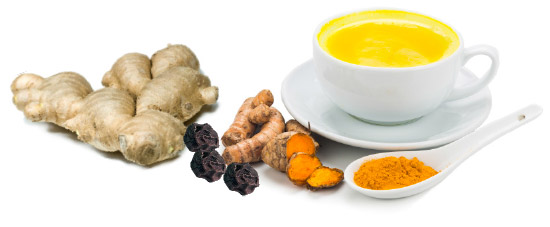 Wellness recipes ideas with doluperine golden premix concentrate :
Comforting drink :
200 ml coconut or almonds hot milk + 1 pod of DOLUPERINE GOLDEN PREMIX + 1 teaspoon honey or agave syrup at your taste.

Dressing recipe :
150 mL extra virgin olive oil + 1/4 avocado + 1 lemon (grated zest + juice) + 1 pod of DOLUPERINE GOLDEN PREMIX + 1 tablespoon honey + 1 garlic clove + fleur de sel. To blend.

Vegetal bechamel (white sauce) with spices extracts :
3 tablespoon olive oil to warm up at low heat, then add 40g corn starch, or any flour at choice. Add gradually ½ L vegetal milk (coconut, almond...) while stiring up, and keep going until the mix thickens. Add 1 pod of DOLUPERINE GOLDEN PREMIX, mix and incorporate into a vegetable gratin for example.
Natural origin components

Turmeric
is the flagship ingredient with some other spices, in the middle of the last wellness & healthcare consumption trend, that grow in coffee shops of trendy cities all around the world. From Sydney to Miami, turmeric hot drinks gradually replace hot chocolates, and in Oxford or Nothing Hill, turmeric pies sales replace sandwich ones. Spices synergy efficiency, like the one initiated by DOLUPERINE formula more than 10 years ago, exceeds our borders and a lot of users appreciate to vary their using form, whether in capsules, for practical reasons, or in soluble powder alternative from now on, in order to incorporate its benefits into drinks and dishes daily. Thanks to natural extraction and to the very high concentration of these spices, only one mini pod is enough to give to the dish or to the drink, an optimal solubility and its flavours are then sublimated. Diluted in a coconut or almond milk for their smoothness, or added to an homemade vegetable juice, one DOLUPERINE GOLDEN PREMIX pod extracts are sufficient to bring all the benefits of curcumin and gingerols subtly pre-dosed for delicious comforting drinks or for any creative recipe, at choice, for wellness.

Piperine, the key of Curcumin bioavailability
It is well-known that precious turmeric curcumin offers all its benefits only when associated to a little adequate amount of piperine, extracted from pepper. Indian tradition had perfectly felt it, associating turmeric with pepper in curry that indians eat quasi daily.
Just a few milligrams of piperine, absorbed simultaneously with curcumin, perfectly complement each other to benefit the organism with its protective effects, (Réf. Shoba & al.) and without need to use polysorbates made of glycol polyoxyethylene, nor nanos like it's often the case in semi-synthetic curcumin liposomes, nor beta or gamma-hemisynthetic cyclodextrins, nor laxative glycerol polyols used in turmeric liquid products.
Ginger extract
is the perfect complementary active ingredient of DOLUPERINE GOLDEN PREMIX. Is is a major ingredient of Ayur-Veda health tradition and is now recommended to help maintain optimal joints wellness. Ginger extract provides gingerols and other phytonutrients easily bioavialable as they are extracted from the fibers to be immediatly ready for your body.
Related products