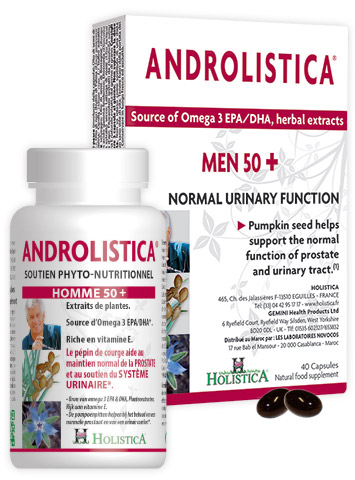 Food supplement
40 capsules Box
N° ACL 3401576723527
90 capsules Jar
N° ACL 3401576734004

Androlistica
Well being and Vitality
Supports masculine vitality
CONTRIBUTE TO NUTRITIONAL SUPPORT
THROUGH ANDROPAUSE
Contributes to prostate fatty acid balance
PROVIDES OMEGA 3+6+9 AND NATURAL VITAMINS
Pumpkin seed helps support the normal function of prostate and urinary tract.(1)
The peak of 50 years old remains a difficult stage for men to pass. Whether for night comfort, or for normal upholding of body tissues, nutrition adapted to this period known as male menopause becomes an essential factor.
ANDROLISTICA® is the nutritional complement made from herbal and nutrients traditionally recommended for mature men, in the 45 to 50 year old range and up, to help them protect themselves from signs of premature ageing.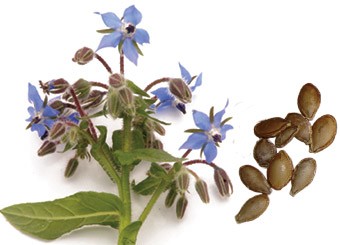 Ingredients:
Fish gelatin, cold pressed first grade pumpkin seed oil (Cucurbita pepo), palm nut oil (Elaeis guineensis), humectant: glycerin, raw onion concentrate (Allium cepa), saltwater fish oil, cold pressed borage oil deodorized (Borago off.), whole yam extract (Dioscorea opposita), sea lettuce (Ulva lactuca), thickener: beeswax, natural source carotenes, natural source vitamin E. Contains no artificial chemicals, no preservatives, synthetic colors or flavorings.
DIRECTIONS FOR USE:
3 capsules per day during the meals bring the quantities required to obtain the expected effects. Do not use if blister is broken. Consult your physician or pharmacist if you are taking any prescribed medicine. A varied balanced diet and healthy lifestyle are important. This is a food supplement and should not be used as a substitute. Do not exceed the stated recommended daily dose. Store out of light.
(1) *3 capsules per day contribute to :
- 83% NRV in vitamin E
- 22% NRV in EPA/DHA
- 100% NRV in caroten Pro vitamin A
NRV: Nutrient Reference Values.
Natural origin components

COLD PRESSED FIRST GRADE MARROW SEED OIL
These specific vegetal sterols possess a structure very close to natural steroidal sexual hormones and are traditionally used as a nutritional supplement for men, particularly those around or older than 50. Since ancient Egypt, marrow seedshave been used to prepare Mastahaleb, a highly-nutritious recipe destined to provide men with strength and vitality and that also refreshes them and stimulates urination. The marrow seed helps in the upholding of a normal prostate and urinary flow.

NON HYDROGENATED PALM NUT OIL
Natural source of lauric and palmitic fatty acids, tocopherols and tocotrienols (Vitamin E). Palm nut oil is used to protect cells against oxidative stress.

FRESH ONION CONCENTRATE
Rich in organic-sulfuric phytonutrients, this fresh onion extract would contribute to the protection of vessels according to its traditional use and various researches. (Ref (1) Urology Oct 2007, Galeone& coll. Onion & garlic intake. (2) Kalus&coll «Onion as an essential ingredient of theMediterranean diet»).

OMEGA 3 RICH SALTWATER FISH OIL
It has been established that saltwater fish oil rich in Omega 3 and specifically in EPA and DHA participates in the upholding of the cardiovascular (see the OMEGACOEUR product) and offers with ANDROLISTICA a diversified supplement, knowing that 250 mg daily of EPA & DGA are required for these expected effects. Today, new studies have highlighted the effect of those Omega 3 acids at prostate cell level.

BORAGE SEED OIL
Besides its traditional use for the skin's beauty, this oil has also been the subject of preliminary studies for the benefit of its unsaturated fatty acids on the human metabolism. (Ref (3) PLoS One. 2013 Tasset-Cuevas & coll. Protective Effect of Borage Seed Oil and GLA on DNA: In Vivo and In VitroStudies-Cordoba. (4) Biochem Liang & coll. Chicago University).

WHOLE YAM EXTRACT
(Dioscorea: 16 % of natural diosgenincontenct). Rich in enzymes, diosgenin, and dioscoretin, the Yam extract is a plant traditionally recommended for seniors, due to its contribution to reducing night sweats.

SEA LETTUCE
This green seaweed supplies trace elements and micronutrients that participate in the enzymatic functions involved in lipid metabolism.

MARINE CAROTENE
Transformed by the organism into Vitamin A according to its needs, Vitamin A contributes to the uphold of a normal vision as well as the upholding of the skin and mucous.

VEGETAL VITAMIN E
Vitamin E contributes to the protection cells against oxidative stress.
Related products